Where To Go: Lily & Fox's Guide To Your Next Dream Getaway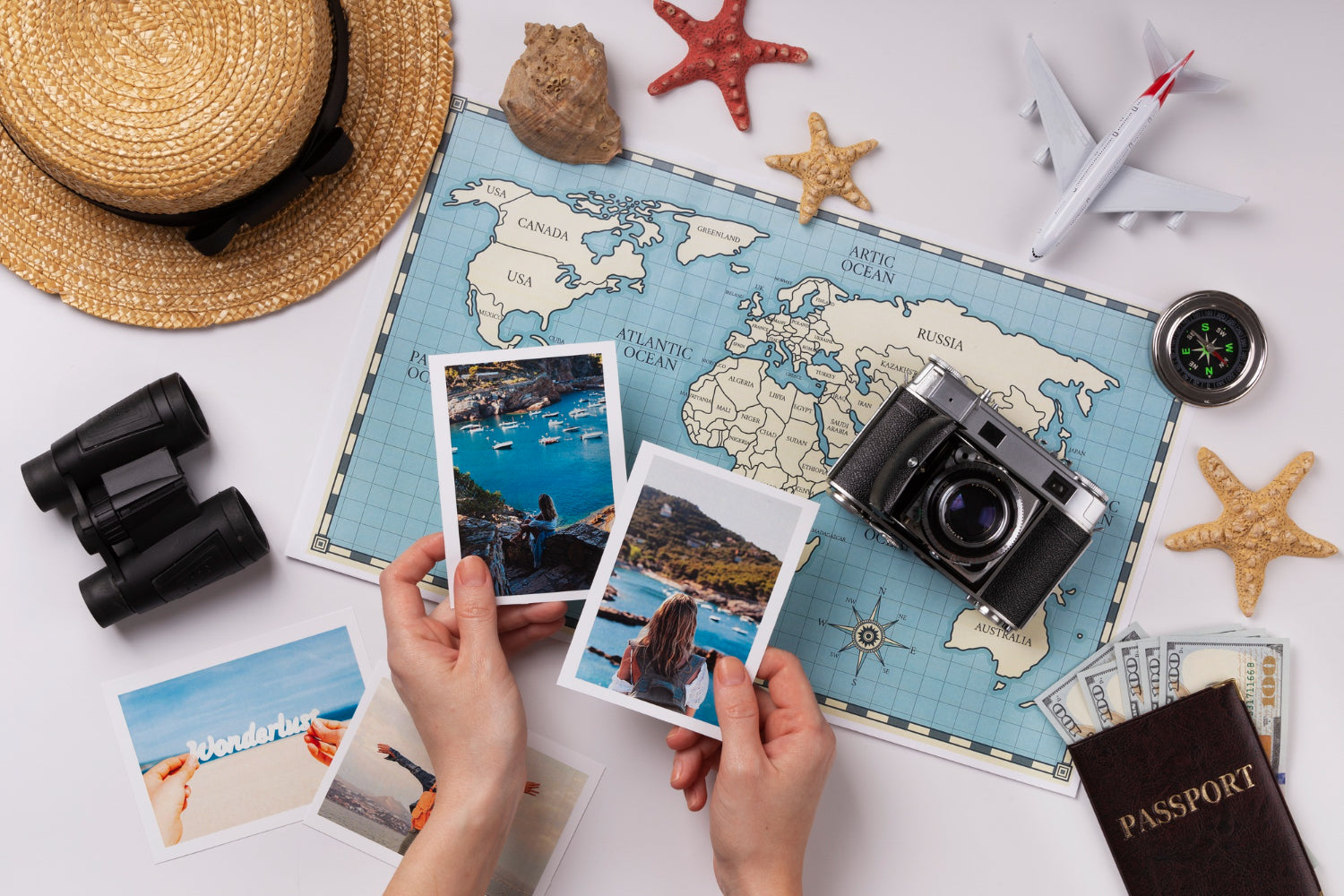 Image by Freepik
Welcome back to our blog nailfies, where we believe that no adventure should come at the cost of fabulous nails! We understand that when you're on the go, you don't always have the time or resources to keep up with your manicure. That's why we're here to help you find the perfect nail wraps that will keep your nails looking fancy and fabulous, no matter where your travels take you.
Whether you're embarking on a luxurious cruise, soaking up the sun on a tropical beach, hiking through breathtaking landscapes, exploring wildlife and safaris, shredding the slopes on a snowboarding adventure, immersing yourself in the vibrant energy of a city break, cycling through picturesque scenery, experiencing the rich culture of a new destination, or indulging in mouthwatering food from around the world, we've got you covered.
At Lily and Fox, we have curated a collection of nail wraps specifically tailored to suit the needs of every adventurous soul. Our wraps are not only stunning in design but also durable and long-lasting, making them the perfect companion for your travels. Whether you prefer bold and vibrant patterns or subtle and elegant designs, we have something for everyone.
Join us as we dive into the world of travel and nail art, where we'll be recommending the best nail wraps for each unique travel experience. Get ready to turn heads and feel confident as you showcase your fashionable and fabulous nails while exploring the wonders of the world.
So pack your bags, gather your wanderlust spirit, and let us guide you to the best nail wraps for your next adventure. It's time to elevate your travel style and make a statement with your fingertips. Get ready to nail it with Lily and Fox!
Cruise
Image by Eva Sea Sparkles
Oh, what a dreamy vacay! Cruising, being one of the most sought after getaways, gained popularity way back in the late 1970's after the airing of "The Love Boat". But did you know that many people regard 1950 as the Golden Age of Cruising? In other words, this activity has been here even before most of us. Isn't that crazy?
Filled with so many fun activities, this is surely a remarkable trip for anyone who gets to experience it. It's a social event filled with dancing, games, drinking, and various others! Whether you're a party person or someone who just loves to chill, cruising won't disappoint you, as they have it all—literally!
Grannys, grandpas, moms, dads, kids, people of all ages—anyone can find something to spend their precious time with. People say time flies when you're having fun, and that's exactly what will happen when you're inside the ship! Make sure to leave an impression with your gorgeous nails!
Beach
See the line where the sky meets the sea? It's calling you! When you talk about vacations, what comes to mind first? Beaches! Whether you're planning to chill at Venice Beach or want to explore more out there in the Caribbean or even in the jewels of Southeast Asia, beaches won't disappoint you! 
It's a destination that's been the dream of many since childhood. Do you remember your first beach trip? Bet you didn't get a wink of sleep the night before, tossing and turning, just thinking what kind of adventure awaits you the next morning. Don't worry! We all can relate.
It would be safe to say that beach trips have a spot on our bucket lists. It's the perfect time to flaunt that figure and show others the confidence you have in yourself! Curves and all, your beauty deserves to shine, and what better way to elevate that than with fabulous nails?
 Hike
Image by Annalena In The Woods
Did you know that in the US and many other countries, the leading cause of death is heart disease? This is according to a recent study by the National Security Council. A sedentary lifestyle is one of the factors that contributes to this. With the popularity of mobile devices, home deliveries, and everything else technology has to offer, it seems like we're leaning more and more toward this unhealthy lifestyle every day.
The best time to break this cycle is now. Embark on fun and outdoorsy activities like hiking! This can be done with friends, family, and even your better half. This amazing recreational activity is a natural exercise that promotes health, meditation, mindfulness, and overall well-being.
Prepare your jackets and backpacks, and glamorize your nails with your favorite Lily & Fox wraps! And, oh, don't forget your sunscreen before going out! Here are some of the designs we think will suit your nails best for this fun adventure:
Safari & Wildlife 
Have you been craving a complete change of scenery? A safari trip might be just what you're looking for! Relax in the heart of nature, far from the stresses of modern life.  An escape to the safari is a great way to recharge your batteries and explore the untamed wilderness!
Experience the wildlife in the flesh! Enjoy the sounds of nature while watching wild animals roam freely in the bush. Track wildlife on foot, search for nocturnal animals in safari vehicles, and spot rare birds in birding heaven. Go to the Serengeti and marvel over the great migration!
An unforgettable safari experience gives you the rare opportunity to observe the fascinating and mysterious animals in the wild! Be one with the animals as you flash those stunning tips! Now is the perfect time to show off those leopard and cheetah-themed wraps! 
Ski/Snowboarding
Photo by Lori Light Me Up
Are you looking for an action-packed activity on the slopes? Then adventure skiing or snowboarding might be right for you! This escape gives you the chance to explore an exciting destination, stay at a stunning mountain resort, breathe fresh alpine air, and bond with family and friends. Although curling up by the fireplace and hibernating sounds tempting in the cold, Getting out in the snowy mountains and having some fun outdoors is also a great idea! Snowboarding and skiing have their own benefits, too! It improves sleep, boosts your mood and energy, and is a fun way to burn off those calories. 
This cold vacation is the perfect time to ski in style! Elevate your look by adding some nail wraps that compliment your cute outfit and the cold weather. 
Countryside
Photo by
J-Ro
Illusionary
If you're looking for a vacation that can not only relax and rejuvenate you but also improve your health, consider a countryside getaway! It is an ideal destination for encouraging relaxation and a better lifestyle because of its distinctive blend of outdoor recreation, scenic beauty, and tranquility.
There are many health benefits associated with vacations in the countryside, such as reduced stress and anxiety, improved mental and physical well-being, improved sleep quality, weight loss opportunities, and social and emotional benefits. Additionally, you have easy access to all of the outdoor activities that you love, such as hunting, fishing, climbing, hiking, or camping. When living in a rural area, you can do virtually all of these right in your backyard, anytime! 
Escape the hustle and bustle of the busy city and take a breath of fresh air! Enjoy a drive down the countryside and soak up the serenity and peace that our environment has to offer. Be one with nature, reduce your stress levels and indulge in the calming sounds of the birds chirping, wind whistling through trees, or even wildlife. 
Experience nature and the peace it offers in style. Don't forget to allow your tips to emanate this relaxing escape!
Cycling
When it comes to cycling, there are countless considerations: the right gear, safety equipment, and performance-enhancing accessories. But have you ever thought about your nails? While it may seem like a small detail, nail care is an essential part of your overall cycling experience. That's where nail wraps come in. 
These ingenious adhesive coverings offer both practical and aesthetic benefits that every cyclist should consider. In this article, we'll explore why nail wraps are a must-have accessory for any cycling enthusiast, providing you with the perfect combination of style, durability, and convenience.
Style and Expression:
Nail wraps allow you to express your unique style on the road. With a wide range of designs and colors, you can add a personalized touch to complement your cycling gear and showcase your individuality.
Durability and Protection:
Cycling can take a toll on your nails, but nail wraps provide a durable and protective solution. They act as a barrier, safeguarding your nails from the elements while maintaining their flawless appearance throughout your rides.
Nail wraps are a cyclist's best friend, offering style and protection. Elevate your cycling game by embracing these versatile accessories and enjoy the fashionable and safeguarded ride you deserve.
 Cultural
Photo by Madlen I Aztec Gold
In a world as diverse as ours, embracing and celebrating cultural heritage has become increasingly important. Our individual identities are deeply rooted in the traditions, customs, and artistry of our respective cultures. One unique way to showcase and honor this cultural richness is through the art of nail wraps. These vibrant and intricate designs not only adorn your nails with style but also serve as a canvas for expressing your heritage, paying homage to traditions, and celebrating the diversity that makes our world so fascinating. In this article, we invite you to embark on a journey of cultural exploration as we delve into the beauty, significance, and transformative power of cultural nail wraps.
Cultural Identity:
Nail wraps inspired by various cultures provide a unique way to express your cultural identity. Whether it's intricate patterns from traditional textiles, symbols with historical significance, or motifs that represent your heritage, cultural nail wraps allow you to proudly display your roots and share your story with the world.
Celebration of Diversity:
Cultural nail wraps provide a platform to celebrate and appreciate the diversity of different cultures. From African-inspired prints to Asian-inspired designs, indigenous patterns to traditional symbols, these wraps showcase the artistic expressions and traditions that make our world vibrant and fascinating.
Cultural nail wraps offer a powerful means of self-expression and a celebration of diversity. By incorporating these unique designs into your nail art, you can embrace and honor your cultural heritage while sharing the beauty of various traditions. Let your nails become a canvas for cultural exploration and a source of inspiration for others to appreciate the richness of different cultures.
Winery/Food and Wine 
Image by
Sabrina
Grape Soda
When embarking on a delightful journey of winery and food exploration, we often focus on the delectable flavors, exquisite pairings, and captivating experiences. However, we shouldn't overlook the importance of presenting our personal style and attention to detail. That's where nail wraps come in—a seemingly small yet impactful accessory that can elevate your winery and food travel experience to new heights. In this article, we'll delve into why nail wraps are a must-have for your escapades in the world of wineries and food, bringing a touch of glamour and self-expression to your journey.
Visiting wineries and indulging in culinary delights is an opportunity to immerse yourself in elegance and refinement. Nail wraps provide a stylish and sophisticated touch to your overall appearance, complementing the ambiance of wineries and upscale dining establishments. With an array of designs, colors, and patterns available, you can choose nail wraps that harmonize with your attire and add a touch of glamour to your fingertips.
Nail wraps present a canvas for self-expression and creativity, allowing you to showcase your personality and individual style. Choose designs that reflect your passion for wine or gastronomy—whether it's delicate grape motifs, wine-inspired patterns, or whimsical food illustrations. Nail wraps provide a unique opportunity to share your love for wineries and food in a fashionable and eye-catching way.
As you embark on your winery and food travel adventures, don't underestimate the impact of nail wraps. They add a touch of style, durability, and self-expression to your journey, elevating your overall experience. Whether you opt for designs that reflect your love for wine, gastronomy, or simply showcase your personal flair, nail wraps become a charming and fashionable accessory that enhances your enjoyment of wineries and culinary delights. So, indulge in the world of nail wraps and let your fingertips become a delightful conversation piece as you explore the realms of wineries and food.
Tips
At Lily and Fox, we're all about making your nail wraps last as long as possible. We understand that you want your nails to remain fancy and fabulous throughout your entire travel experience. That's why we're here to provide you with some valuable tips and tricks to help prolong the life of your nail wraps.
Take advantage of customer experiences: We've had the opportunity to speak with some of our customers who are avid swimmers, and they have found that their nail wraps can last up to 1-2 weeks, even with daily swimming. So, if you're planning a beach vacation or love spending time in the pool, don't worry, your nail wraps can handle the water!

Avoid getting your hands wet immediately after application: To ensure that your wraps adhere properly, we recommend avoiding getting your hands wet for about 6 hours after application. This allows the wraps to fully bond to your nails and ensures their longevity.

Protect with a topcoat: Using a topcoat not only enhances the shine and finish of your nail wraps but also acts as a protective layer. It helps to shield your wraps from potential damage caused by sunscreen or other environmental factors. We recommend adding a topcoat every few days to keep your nails looking picture-perfect.
By following these simple tips, you can extend the lifespan of your nail wraps, allowing you to showcase your fancy and flawless nails throughout your travels. So go ahead, dive into the water, soak up the sun, and enjoy your adventures without worrying about your wraps. With Lily and Fox, your nail wraps will stay stunning every step of the way!
As we come to the end of this nail-wrap-filled adventure, we hope you've found our recommendations and tips valuable in keeping your nails fancy and fabulous during your travels. At Lily and Fox, we believe that exploring the world should never mean sacrificing style, and we're thrilled to have been a part of your journey.
Remember, whether you're sailing on a cruise, basking in the sun on a beach, hiking through breathtaking landscapes, encountering wildlife on safaris, shredding the slopes while snowboarding, immersing yourself in the energy of a city break, cycling through picturesque scenery, embracing new cultures, or indulging in delicious culinary experiences, your nails can always be on point.
Our carefully curated collection of nail wraps offers designs for every taste and occasion. From vibrant and bold patterns to elegant and understated designs, we strive to provide options that cater to your unique style and travel preferences. With our durable and long-lasting wraps, you can confidently explore the world, knowing that your nails will remain flawless and eye-catching.
We hope our tips on extending the life of your nail wraps have been helpful and that you've discovered new ways to maintain that fresh manicure look throughout your adventures. Remember, a little extra care and attention go a long way in ensuring that your nail wraps stay picture-perfect.
Thank you for joining us on this exciting journey where travel and nail art intersect. We encourage you to continue embracing your wanderlust and expressing your personal style through your nails. Stay tuned for more exciting content, tips, and recommendations from Lily and Fox.
Wherever your travels take you next, may your nails be as fabulous as the memories you create. Until next time, #KeepExploring, #KeepDazzling, and #KeepNailing it with #LilyandFox!
---