Timeless Elegance: French Tips that Flex and Impress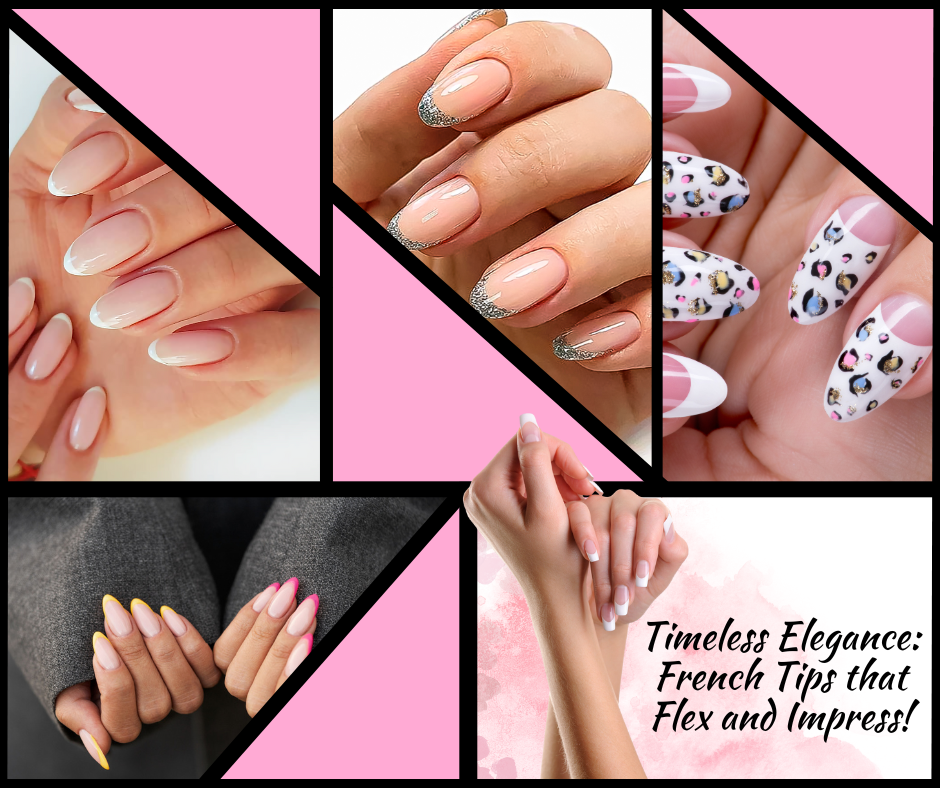 Get the look or Get Notified: From Top Left to Right: Mon Amour (french tips), Ice Princess, Neon Safari, Bottom Left: French Bubblegum
They say nothing beats the classics. The Beetles, The Ramones, and U2, among others, have stood the test of time as their music influenced the world. When something is called a classic, it means it's a really great example of a particular style. It's something that's always valuable and never goes out of style. Basically, it's the best of the best and shows what the style is all about.
In the world of nails, French tips have become a true nail art staple, a timeless, classic style that goes with just about our unique fashion sense! French tips are an absolute classic for nail designs that never go out of style. 
It's simple and sophisticated, yet can take a lot of patience and practice to perfect it with nail polish. If you love making things easier and time-efficient, our classic French tips might just be the perfect French tip you're looking for! 😊
In this blog, we'll explore the world of French tips and how they came to be. Some would say, "Why settle for the ordinary when you can elevate the classic French tips to new heights of creativity?" We at Lily and Fox will help you do just that! We're here to help elevate your style as our French tips include the classics and offer a fun and exciting variation of French tips in different finishes, colors, and designs! 
In the spirit of fun and community,  we'll explore the allure of classic French tips, how to DIY them using nail wraps, some helpful tips from our customers, and discover the best French tip styles from around the world. Wherever you are, there's a perfect French tip for you, so "pardon our French" as we take you on a world tour of French tips that you can flex and impress! 😎
Did you know the interesting story behind the creation of the French manicure?
Were you aware that the French manicure, also known as French tips, has been a long-standing nail art trend since the early 1900s? It's a classic and timeless style that's ideal for any event!
While some attribute its creation to Max Factor, a Polish-American makeup artist and entrepreneur, the exact origin remains a mystery. Nevertheless, French tips remain a charming and considerate option that always stay in vogue. 
In the 70s, Max Factor's grandson, Max Factor III, coined the term 'French manicure.' Legend has it that he wanted to create a chic, sophisticated, yet effortless-looking nail design that would suit any attire and appear stunning on screen.
The classic French tip involves painting the nail tips in white and the rest of the nail bed in a pale, neutral pink or beige. This creates a subtle contrast perfect for achieving that healthy-looking, polished vibe. How marvelous is that?
The French manicure gained popularity in the '70s and '80s, partly due to its simplicity and versatility. It became associated with sophistication, elegance, and minimalism. Today, the French mani has evolved into various unique styles - from bold colors to intricate designs and even unconventional shapes and textures. You can see all sorts of twists on the classic style - different colors, cool designs, and even funky shapes and textures. It's all about experimenting and making it your own!
Do you know how the French manicure is so hot right now? Well, it's been around for a while, but it's still super trendy and iconic. It's inspired so many nail artists to get creative and develop all sorts of new designs while still keeping that classic and clean vibe. And get this - similar styles were being rocked even before the 70s! So, don't be afraid to try something new and put your own spin on this timeless trend.
Embracing the Timeless Elegance: Classic French Tips
French tips are still all the rage, and they're perfect for any occasion - whether you're dressing up or just keeping it casual. These tips have a timeless charm that will never go out of style. With a neutral base and pristine white tips, they create a classic, sophisticated look that complements any outfit. So why not give them a try and boost your style? Trust us, you won't regret it!

Get Notified: Mon Amour (French Tips for Short Nails), Mon Amour (Pedicure)
Pure Love (Transparent)
The Perfect French Tips For Your Next Adventure!
French tips might be a universal trend, but different countries and cities have put their unique spins on this classic style. While the classic French tips have their charm, there's plenty of room to add a personal twist. Elevating this iconic style can be a fun and creative adventure!
Here are some regional variations that add cultural flair! For starters, we have the classic French Tips: Mon Amour (Paris), Tips For Summer (San Salvador) Frozen Tips (Yakutsk), American Tips (Virginia), and many more so ready your nail wrap kit, pad and pen as we introduce you to some fun variations of French tips.
USA: Expressive Innovation and Creative Freedom 

Image by TravelScape on Freepik
The American Dream! Americans are known for patriotism, the Fourth of July parade, and festivities! A better way to celebrate and flex your patriotism is by wearing our American-inspired French tips with red, white, and blue accents and a touch of sparkle!
In the vibrant state of Virginia, French tip nail art is taken to new heights with a creative and progressive approach that celebrates the country's ethos of self-expression. From bold colors to experimental designs, American French tips showcase a fusion of traditional elegance and modern trends. Just as American fashion embraces diversity and eclecticism, French tips in the USA embody a sense of freedom, allowing each individual to interpret the trend in their own distinct way.
We are thrilled to see the limitless creativity of nail stylists and nail wrap enthusiasts across the nation! From bold gradients to trendy ombré effects and even pop culture-inspired designs, their ingenuity knows no bounds. We're excited to see what's next!
Get The Look: I'm Like A Bird, Living The Dream, American Tips, Patrio-Tips

Get The Look: Colors of Freedom, Party in the White House, Dreaming of You, Free to Sparkle


Team USA! 
France: The Birthplace of Classic Elegance 


Image by vwalakte on Freepik
The heart of France is where this iconic style was born, showcasing white tips and a neutral base that radiates timeless elegance. For a more understated yet equally stunning look, we recommend using soft pinks and whites to achieve that subtle effect.
Captivating the hearts of French ladies everywhere with its delicate blend of soft pink and white hues, this style perfectly showcases the natural radiance of healthy nails. The French manicure is a true embodiment of the "less is more" philosophy, demonstrating that elegance can be achieved through simplicity. 
Despite the constantly evolving world of nail fashion, the timeless French tip remains a beloved staple in French culture, embodying a chic and graceful approach to style that is effortlessly refined. We can't wait for you to try this stunning trend for yourself!

Get Notified: Ballet Slipper, French Bubblegum, French Kiss, French Rose

French Bubblegum
Japan: Delicate Details and Kawaii Charm 

Image by tawatchai07 on Freepik
French tip nail art takes on a delicate and whimsical form in the land of the rising sun. Known for its kawaii culture, Japanese nail art often includes delicate designs, intricate details, and pastel shades that complement the classic French tip.

In Japan, nail enthusiasts have become true masters of intricate detailing. Their creativity is nothing short of amazing as they use the classic French tip as their canvas. Delicate floral patterns, soft pastels, and even minimalist anime-inspired characters are used to create a beautiful blend of timeless elegance and kawaii culture. It's truly a sight to behold!
This unique blend of tradition and innovation showcases meticulous detailing and a playful spirit. It's amazing how Japanese fashion seamlessly combines tradition and modernity, and their French tips capture the essence of delicate beauty and imaginative charm. It's truly inspiring, and we're excited to share these stunning creations below.

Get the Look or Get Notified: My Darling Valentine, Enchanted Love, Honey Blossoms, Spring Into Pink
Brazil: Vibrant and Festive Flair

Image by Jose Guertzenstein from Pixabay
Across the Atlantic, Brazil adds its signature vivacious spirit to the French tip trend. With a burst of energy and lively hues, these tips truly reflect the colorful celebrations and vibrant landscapes that Brazil is famous for. From sunny yellows to tropical blues, these tips will surely add positivity and joy to any look.
Beyond the bold colors, Brazilian nail art enthusiasts embrace embellishments with gusto.  From dazzling rhinestones to sequins, and playful patterns, they come together to create designs that are ready for a fiesta. These festive French tips embody the essence of Brazil's joie de vivre, capturing the spirit of celebration and adding a touch of vibrant flair that embodies Brazil's lively, festive spirit. We can't wait to try out these fun designs ourselves!

Get The Look: Feeling Glamorous, Stop & Go!, Glow Up, Jazz Hands
Italy: Effortless Elegance
In the picturesque landscapes of Italy, French tip nail art finds a home that resonates with effortless elegance. Italian ladies have perfected the art of blending timeless trends with a contemporary touch, and the French tip is no exception. 
While honoring the traditional white tips, the Italian-inspired white-tipped nails are taking on a new level of elegance! With gentle hues and delicate textures on the base, you'll achieve a chic and refined appearance that merges classic charm with modern flair.
Just as Italian fashion effortlessly balances sophistication and simplicity, the Italian French tips perfectly represent this, providing a versatile canvas that can seamlessly transition from casual to formal events. The Italian take on French tips radiates grace and elegance that transcends over time. We couldn't be more excited to see this trend continue to flourish!

Get The Look: Velvet Touch, Feeling Tipsy, Hot Tip, Metallic Gold Tips (transparent)


Feeling Fluid
India: Opulent Extravagance and Cultural Fusion

Image by freepic.diller on Freepik
Experience the vibrancy of India's bustling streets as French tip nail art is elevated to a luxurious and culturally rich art form. Drawing inspiration from traditional henna patterns and intricate jewelry, Indian nail artists imbue the classic French tip with opulence and extravagance.
We absolutely love the way Indian nail artists have transformed French tip nail art into a luxurious and culturally rich art form. The intricate jewelry and traditional henna patterns that inspire their designs truly make each manicure a tapestry of cultural heritage and individual expression. 
The final outcome is a stunning combination of classic sophistication and cultural opulence, which perfectly embodies the diverse and exquisite traditions of India. These Indian French tips are a true embodiment of the nation's love for intricate embellishments - it's hard not to feel luxurious and culturally rich when wearing them!

Get The Look or Get Notified: Ruby Tips, Little Princess, Runway Ready, Simple Elegance
San Salvador: Vibrant Fusion of Cultures
In the lively streets of San Salvador, French tip nail art becomes a reflection of the city's rich cultural fusion. The capital of El Salvador is a melting pot of influences, and this diversity is beautifully captured in the interpretation of French tips. 
Talk about nail art goals, the Salvadoran nail art scene is totally killing it by elevating the classic white tips with bold, vibrant colors and indigenous designs. It's like a party on your fingertips that pays tribute to the country's rich cultural heritage and lively festivals. And those French tips in San Salvador? They're the perfect fusion of sophistication and energy, showcasing the city's diverse and dynamic vibe.
Just as San Salvador blends traditions from various backgrounds, French tips mirror this harmonious coexistence, creating a unique visual tapestry that tells the story of a vibrant community.

Get The Look: Emerald Tango, Rainbow Tips, So Tipsy, Tips for Summer
Yakutsk: Icy Elegance in Extreme Climates
Yakutsk's captivating atmosphere inspires a distinct take on French tip nail art, influenced by the city's extreme climate and otherworldly landscapes. Nestled in Russia's Siberian region, Yakutsk endures frigid winters that shape the local expression of French tips.
Drawing inspiration from the breathtaking frosty beauty of the surroundings, these wraps feature cool and pale hues that resemble delicate icy crystals. These nail wraps are perfect for those who want to add a touch of elegance to their look.  The result? An ethereal and enchanting interpretation that captures the quiet allure of Yakutsk's frozen wonderland.
French tips in Yakutsk are a testament to the city's ability to find elegance and beauty even in the harshest conditions. We recommend trying them out and experiencing the beauty they bring to your appearance. 
Get The Look:
Frosted Tips,
Frozen Tips
,
Rhythm Of The Night
,
Just The Tips

Get Notified: Wave of Beauty
Customer DIYs and Tips
It's amazing how much self-expression and creativity can go into something as simple as a manicure - especially when your fave Lily and Fox nail wrap is sold out, or you just want to keep things new and spice things up a bit! Nails have definitely become a crucial platform for showcasing individual style in the beauty and fashion industries, and we love being able to create a look that is uniquely our own using DIY techniques. Whether it's adding a pop of color or experimenting with different shapes and patterns, the possibilities are endless!
Our Mon Amour (French tips) is a crowd favorite that sells out fast, so it's great to see how our lovely customers bring out their creativity and come up with their own classic or elevated French tips!  It's all about personalizing a classic look to perfectly reflect your unique personality. Crafting your own French manicure is more than just creating nail art, it's a physical representation of your true self. So let's have some fun and get creative! This is a wonderful opportunity to proudly show off your personal style and flair.
Most French Tips wraps already have their own classic touch of beautiful designs, which are fantastic! But if you're serious about doing DIY designs, it can sometimes require a combination of 2 or more nail wraps to achieve that unique design or that awesome, personal French Tips. This is your chance to showcase your personal style and get creative with your manicure. 
Get ready to rock those nails like a true fashionista and be inspired to see what our fellow customers have created with their own creativity and style!
Nail Wraps and Curved Scissors
Did you know that you can create your own French manicure using your leftover nail wraps? You Make your own stunning French manicure at home with your favorite nail wraps and curved scissors.
A great alternative to our popular classic, Mon Amour (french tips), would be customizing our solid white nail wrap, which is First Snow.


Revlon Nail Scissors, Curved Blade, Made with Stainless Steel
Revlon Nail Scissors, Curved Blade, Made with Stainless Steel with it's slightly curved tip, will help you trim the wraps off carefully to form an excellent French manicure look with any wrap.

You may easily customize and trim the wraps with the steps below:
Step 1: Place a piece of tape on your natural nail.
Step 2: Trace your natural nail with a pen, keeping in mind where the French tips will be.
Step 3: Remove the tape and place it on the back of the nail wrap.
Step 4: Cut the nail wrap following the trace you did earlier.

Dotty for You and Revlon Nail Scissors
Gradation
When colors flow into one another without interruption, can convey elegance. French Tips can also be a combination of beautiful solid or gradient colors. DIYs give you that chance to make your own rules. Instead of the color at the tips, you can place the French tip style to your cuticle.
Get the Look: Lilac Ombre
Negative space
Where parts of the nail wrap are left unpainted to create a dynamic balance between color and bare nail should also be noticed - this is perfect for those who love and adore the classic French Tips. Elegant and regal in its own right as white clean tips, you can also elevate it by using a different color as your tip! All it takes are some leftover wraps and your trusty curved nail scissors! ✂️
Get Notified: Wave of Beauty
Transparent Glitter Tips

Get The Look: Glamour Girl, Beauty Queen

Get The Look: Peppermint Tips, Got Any Tips?
Overlay and Layering
Create and achieve unique and eye-catching nail designs by combining different patterns, colors, or even textures and apply them to your classic French tips! You can also do that the other way around by applying your transparent French tips to a colored, glittered, or solid wrap! It not only elevates your look, but it also reflects your personality and style!

Get the Look and Get Notified: Barbie Girl, Under Construction, and Simple Elegance

Get the Look or Get Notified: Caramel Apple and Glamour Girl
Bejeweled and Accents 
The beauty of French Tips usually comes from its simplicity yet elegant look. But that does not mean you can't add a gem or two! Be it a striking color or a tip made of glitter, it can definitely provide a little glitz and intrigue. Sparkling tips? Say no more!  Show your own style and flaunt it!
You can try this kit from Amazon to add some extra bling and sparkle to your tips! ✨

Beetles Gel Polish Nail Art Rhinestones Glue Set Image and Steps on Amazon
When you use nail wrap to create French Tips, you get a consistent base that you can use over and over again. This means you can experiment with different styles and trends without having to start from scratch each time - giving you a blank canvas to express your artistic side or show off your personal growth, like a snapshot of self-discovery. 
Whether you're into a simple and elegant look or something bold and imaginative, the options are limitless! So go ahead and get creative!
New French Tips from Newsletter

Image by rawpixel.com on Freepik
Get a glimpse of our French manicure collection from our latest VIP newsletter. We can't wait to share our curated collection of brand-new designs and restocked classics, all inspired by the classic French manicure.
Tips Of Sunshine, Pumpkin Party, Daisy Delight, and Let's Get Plaid
Get a sophisticated yet playful nail wrap design with Tips of Sunshine. It has vibrant yellow tips with colorful flower petals on a delicate white base as your accent nails. This design will give you a ray of sunshine right at your fingertips!

Get a mix of your favorite French manicure with the cozy charm of autumn with our Pumpkin Party nail wraps! It features a nude base with grey tips that serve as a perfect canvas for your next pumpkin party. Whether you're going for a casual outing or a festive gathering, this nail wrap will surely keep the autumn spirit alive right on your fingernails. 
Embrace a breath of fresh air with your favorite French tip pattern with Daisy Delight. It has light blue tips that are reminiscent of clear skies on a summer day, adorned with intricate white daisies that give you a touch of whim and charm to your nails. 
Let's Get Plaid nail wraps might just give you that little bit of luck you need with that delicate clover leaf design on its base! It also features a classic green plaid pattern that boasts a touch of Scottish heritage to your favorite French tip design. 
Fruity Tips, These Tips Don't Lie (Transparent), Rainbow Tips, and Jazz Hands
Get a burst of juicy colors with Fruity Tips. This design features a playful celebration of colors that evoke the sweetness of fresh fruits. 
These Tips Don't Lie (Transparent)
This design offers a fresh twist to the classic French manicure - These Tips Don't Lie (Transparent). It features a transparent base with a playful arrangement of shades from purple, green, blue, blue-green, and yellow. 
Rainbow Tips will surely give you a lively and joyful twist to your fingertips. This design features various colors that will surely brighten up your everyday style. 
Get vibrant nails with Jazz Hands! This design offers a playful and unique twist to your classic French manicure. Enjoy a kaleidoscope of colors with its varying colored tips. 

It Takes Two, Pointed Perfection, Indulgent Evening, and Jump Into My Web
Make a bold statement with this striking design called - It Takes Two. Featuring alternating red and black tips, it's guaranteed to give you an alluring and sophisticated look.
Let's reimagine the timeless elegance of the classic French manicure with a captivating twist. Introducing Pointed Perfection! This design boasts white pointed tips that give you an edgy look to the otherwise contemporary French manicure. 
Indulge in glamour with this stunning design that combines boldness and sophistication. It features a lustrous red base with silver sweetheart design tips. 
Get sophisticated nails with classic black French tips that add a touch of mystery to your nails. Its intricate web designs act as an accent and elevate your classic French manicure. 
From a chic style look that involves painting the tips of your nails white while leaving the rest of your nail bed plain or painted in a light color, French tips have been made easier thanks to the innovation of nail wraps!  It's perfect for any occasion and a great choice for weddings, special events, or even everyday wear. 
The classic French tips continue to shine brightly in a world of evolving nail trends, French tips remain a beloved and timeless style that will always be in fashion.  
Whether paying homage to its timeless charm or elevating it with your unique flair, French tips are a canvas for self-expression and sophistication. We're genuinely interested in your thoughts on this evolving trend, and we hope you are inspired to try something new with your next manicure.
So, grab your nail wraps, grab those nail wraps, and let your creativity flow! Embrace the beauty of Lily and Fox's French tips that are loved all around the world.
---