The Perfect Nails for the Perfect Day: Wedding Inspo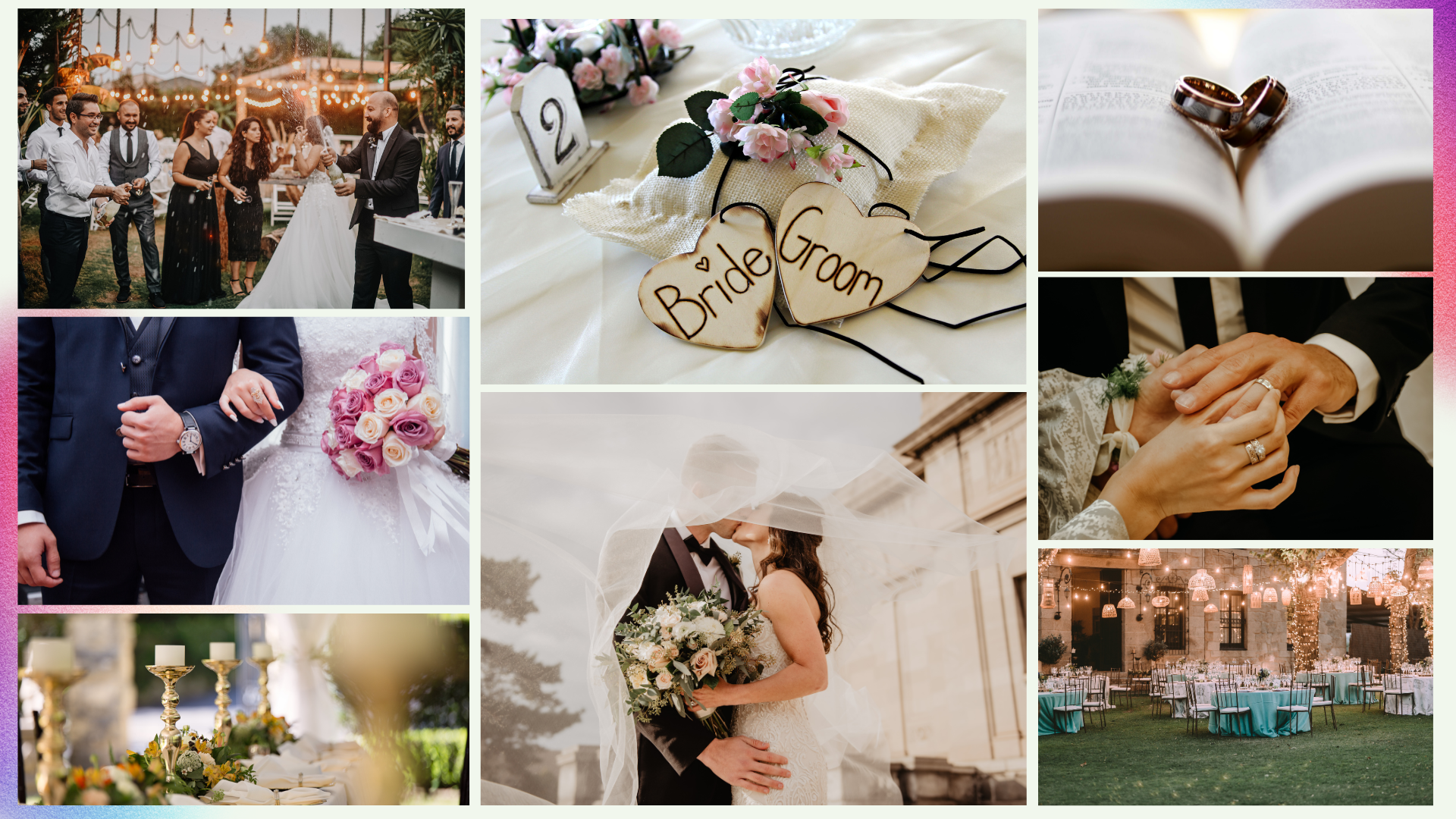 Congratulations! You're finally getting married! Are you ready for all the planning and preparation for your big day? Look no further, as we'll help you out. It's important for everything to go perfectly, and that includes the nail wrap you, and your guests will be wearing on your special day! 
Join us as we navigate through all the intricate details and embark on a delightful journey through some captivating wedding themes and wraps that will make your celebration truly unforgettable! #savethedate and get ready to be blown away and be #inspired by the stunning wraps we've lined up for you in this blog.
We Hear Wedding Bells! 
Weddings are a joyous event and an unforgettable milestone and moment for the bride and groom. It brings together family and friends for an important event. Throughout history, weddings have served as a symbol of love, commitment, and the joining of families. While traditions and customs have varied across cultures and time periods, the essence of celebrating a couple's union remains at the core of this timeless ceremony.
Weddings have a long and rich history that dates back thousands of years, evolving over time with cultural and societal changes. Whatever your culture and traditions, your wedding day is a magical occasion filled with love, joy, and the celebration of your unique journey as a couple. 
It all starts with planning. Planning a wedding is an exciting and joyous journey, filled with countless decisions, emotions, and moments to cherish. We understand how important it is to get every detail right and spot on! It can be stressful, but it can also be fun and memorable! That said, choosing the perfect theme can add an extra touch of charm and personalization to your special day. So gear up, and let's get this wedding planning started! 
Wedding Themes and the Nails to go with them
Choosing a wedding theme is like unlocking a door to a world of creativity and personal expression. From rustic romance to beachy paradise, vintage chic to glamorous extravaganzas, there's a theme to suit every couple's unique style and personality.
Along with the theme is a perfect list of nail wraps that will fit right in whether you're the bride, bridesmaid, mother of the bride or a dear friend! Let your imagination run wild, infuse your love story into every detail, and create a day that reflects the essence of your journey together. 
Rustic Romance: Embracing Nature's Elegance
Rustic Wedding GIF from Tenor gif
Step into the world of rustic romance, where the beauty of nature meets timeless charm. Rustic weddings often take place in picturesque countryside settings or cozy barn venues. Think burlap accents, mason jar centerpieces, and whimsical wildflower arrangements. This theme captures the essence of simplicity, warmth, and organic beauty. Here are some of the wraps we recommend:
Vintage Chic: An Era of Elegance
Photo Credit: pixel-shot.com on Freepik
Transport yourself back in time with a vintage chic wedding theme. Dive into the allure of bygone eras, whether it's the glamour of the 1920s or the retro vibes of the 1950s. Incorporate antique-inspired decor, lace details, classic cars, and soft pastel colors. This theme is perfect for couples who adore timeless elegance and a touch of nostalgia. We hope the wraps below do just that.
1. Galaxia (Red) 2. Dazzling and Adorable 3. Pastel Perfection 4. C'est La Vie
5. Cashmere Rose 6. Ocean Lace 7. Honey Petals
Boho Bliss: A Celebration of Free Spirits
Photo Credit: Emma Loves Weddings
Unleash your inner bohemian spirit with a wedding theme that exudes effortless beauty and carefree vibes. Embrace eclectic decorations, dreamcatchers, flowing fabrics, and an abundance of greenery. This theme celebrates individuality, artistic expression, and a love for nature. It's perfect for couples who want a relaxed and whimsical atmosphere, and we've got you covered with our nail wrap selection.
Transform your wedding into a garden paradise by selecting an outdoor venue that showcases the wonders of nature. Whether it's a blooming botanical garden, a charming vineyard, or a picturesque park, the great outdoors will set the stage for your love story. Breathe in the fresh air, listen to the birdsong, and let the beauty of nature envelop you and your guests. Here are our stunning recommendations that fit this theme just right!
Glamorous Extravaganza: Red Carpet Romance
Photo Credit: Swank Soirée on Pinterest
If you've always dreamed of a wedding fit for royalty, a glamorous extravaganza is the theme for you. Embrace opulence, luxury, and all things sparkling. Picture grand ballrooms, dramatic floral arrangements, crystal chandeliers, and elegant black-tie attire. This theme allows you to feel like a star on your special day, creating memories that shine forever. May our wraps shine, too with our selections below.

1. Dreams Are Forever (transparent glitter) 2. Glass Slipper 3. Glamour Girl 4. Golden Glamour
Beachy Paradise: Love and Seashells
Photo Credit: Emma Loves Weddings
Escape to a coastal paradise with a beachy wedding theme. Whether you're saying your vows by the ocean or bringing the beach indoors, this theme radiates relaxation and seaside charm. Incorporate seashells, driftwood accents, breezy fabrics, and a soft color palette inspired by the sea. Dive into a world of sun-kissed romance and let the waves serenade your love.
Photo Credit: Dear Pearl Flowers
White weddings exude timeless elegance, and incorporating classic white details can elevate the ambiance. From white candles casting a warm glow to delicate lace accents on table runners and chair covers, these elements add a touch of grace and refinement. Remember, simplicity has a way of speaking volumes, and we hope our elegant selection will do just that.
Now that you have a theme for your wedding, there are still tons of parties to throw! We hope your guest list is ready as we're about to take you on a journey leading up to your wedding day!
Are you invited to a Nailtastic Wedding Banquet?
Save the date GIF from Tenor gifs
Attending a wedding, perhaps? Is your BFF getting married soon? Are you attending as a guest, a family member, a bridesmaid, the bride's or groom's mother, or are you the one getting hitched?
Whatever shoe this situation puts you in, it's a joy for us to be a part of this special occasion. Here's a quick rundown of people that play a big part in making the wedding a success!
Bridesmaid, Maid, or Matron of Honor
It's a big responsibility to be a bridesmaid and maid or matron of honor at a wedding. They're probably some of the busiest people in the wedding party. They are there to help the couple in every aspect of wedding planning and the events that lead up to it. This includes the bridal shower, bachelorette party, and rehearsal dinner. Most notably, these are the women who usually stand close to the bride at weddings. That simply means you must always be picture-perfect! What better way to do this than to have a nail wrap that's perfect for each occasion?
Mother of the Bride or the Groom
Being the mother of the bride or groom is a significant milestone in the life of any mother. Imagine raising your children for years, striving to be a good role model and influence in their lives, loving and nurturing them, and then one day, giving them away so they could start their own family. They have always played an essential role in their children's lives, and they undoubtedly will at their wedding as well.
Family Members and Friends
Photo Credit:  Freepik 
In most cases, family members have been with the bride or groom since they were children. They have seen them grow up, and if you're lucky, they have been present at every significant event in the bride's or groom's life. Their wedding ceremony is one of these milestones.

People have recently discovered ways to involve family members in their wedding ceremonies. Most couples ask their older relatives to offer some words of wisdom to the newlyweds. Some gifted family members are requested to sing, play an instrument, or even emcee the reception. If they have little children in the family, they are oftentimes tasked with being a flower girl or ring bearer. They would also appear in one of the wedding reception's most heartwarming moments, the father-daughter dance. 
Here are some of the lovely nail wraps some of our lovely customers used to match their dress.
This celebration usually takes place shortly after the engagement announcement. It brings together both families and close friends to share the joyous news. It can be an intimate gathering or a larger event, depending on your preferences. A fun idea is to throw an origami-themed engagement party - flexing your nails from the last time you saw everyone and gathering around to fold foxes sounds pretty memorable. 
Bridal Shower 
Extend the use of nail wraps to the entire bridal party. Coordinate the designs or colors of the nail wraps to match the wedding color scheme or the bridesmaids' dresses. It creates a sense of unity and adds a fun and stylish element to the overall aesthetic. Just let us know your theme, and we'll be on it faster than you say, wow?
Once you've figured out your big day's theme, consider offering nail wraps as wedding favors or as part of gift packages for the guests. They can be customized with the couple's names, wedding dates, or a special message. This allows guests to take a piece of the wedding home with them and serves as a unique and memorable keepsake. Even including just our origami foxes can do, sometimes. We've had a few customers collect enough of these to form their own skulk. 😆
The Bachelorette 
Align the bachelorette party theme with the wedding's theme to create a cohesive experience. This could include colors, motifs, or elements from the upcoming wedding. Consider consulting with our Personal Stylists to ensure the chosen designs reflect the decision maker's preferences. 
Check out our blog here for more tips and tricks! 
Rehearsal Dinner
Photo Credit: Weddings by Elvira
The most important part of a rehearsal dinner is the chance it offers for both of your families and your wedding party to spend a little more time together before your wedding day arrives. Despite this being a party before the party, it can still be a lot of pressure. 😅 Not to worry, looking good can definitely help you feel good, so prepare spares for your best sets!
The Bride has come! 
Elevate the Look: Goldilocks, Something Peachy, Tinkerbell
Bride's Nails: The bride can wear nail wraps that complement her wedding dress and overall theme. They can be designed to match the wedding colors, incorporate lace patterns, or feature delicate floral motifs. This will add an extra element of beauty and elegance to her hands and create a cohesive look.
Pre-wedding photoshoot
Hosting a pre-wedding photo shoot using your tailor-fitted nail wraps can add a unique and stylish touch to the overall experience.
Prioritize the couple's vision and preferences for the photo shoot. Understand their wedding theme, color scheme, and any specific motifs or elements they want to incorporate. This will guide you in selecting or creating nail wrap designs that perfectly complement their style. We'll definitely help you choose the perfect wraps. 😁
Collaborate with the photographer to ensure the nail wraps are showcased prominently in the photos. Discuss potential poses and compositions that highlight the couple's hands and nails. Share the selected nail wrap designs with the photographer in advance to help them plan the shots accordingly.
Pay attention to the small details. Ensure the nail wraps are flawlessly applied and free of any visible imperfections. Visit our How-To page and perform a few nail care tips to maintain the longevity of the nail wraps throughout the photo shoot.
During the photo shoot, make sure the photographer captures close-up shots of the couple's hands and nails to showcase the beautiful nail wraps. Encourage the couple to pose in a way that highlights their nails and incorporates them into the overall composition of the photos.
Remember, the key to hosting the best pre-wedding photo shoot with tailor-fitted nail wraps is to ensure that the nail wraps complement the couple's style and seamlessly integrate into the overall aesthetic of the photo shoot. Collaboration with the couple, photographer, and other stylists involved is crucial to create a cohesive and visually stunning result.
Let's bring the professionals in
Salons that specialize in nail art and offer their services during your wedding. They can apply the nail wraps for interested guests, ensuring a flawless and professional result. This collaboration adds a luxurious and pampering touch to the event and allows guests to experience a unique nail art service. Remember to provide clear instructions on the how to apply page from our website, as well as any necessary tools or accessories like the nail file and cuticle stick sets, top coats, base coats, to ensure a hassle-free experience for everyone.
See you at the reception area my nails said. 😉
Set up a nail wrap station or booth at the wedding banquet where guests can have their nails done. Provide a variety of designs to choose from, or even offer to mix and match(we highly encourage this creativity!) designs that incorporate elements of the wedding theme. It adds an interactive and entertaining element to the event, allowing guests to enjoy a mini pampering session while socializing.
If you're Asian and you know it, flap your wraps! 
Photo Credit: Rahul Pandit on Burst
Mehndi or Henna party is a celebration that is popular in some cultural traditions, particularly in South Asian weddings. But of course, these events do not discriminate so feel free to hop in the fun! Hosting a Mehndi or Henna party using your tailor-fitted nail wraps can also be a unique and exciting experience
Create additional Mehndi or Henna-themed activities to enhance the experience. Offer guests the option to get temporary Mehndi or Henna tattoos on their hands or feet. Provide Mehndi or Henna cones and invite a professional artist to create intricate designs for interested guests along with some nail fun.
Serve traditional food and beverages associated with Mehndi or Henna parties to pamper up! Offer Indian or Middle Eastern snacks, sweets, and beverages like chai tea or fruit juices. This adds an authentic touch to the experience and delights the taste buds of your guests.
Wedding Nailfiesss!
Recreate the Look: Hot n' Spicy, Virtuous, Rich Caramel, Mocha Swirl
What's a wedding without photos, right? We'll need a way to record those unforgettable moments. 🫰Create designated photo areas or backdrops where guests can showcase their beautifully designed nails. Set up props and decorations that match the wedding theme to create a visually appealing and Instagram-worthy space. Encourage guests to share their nail wrap photos using a designated hashtag, so we can have a look, too and add to the overall excitement of the event.
For the lover who has read until this part
For your anniversary, be confident and gift some nail wraps to your loved one that shouts you love her and you support her love for nail wraps. The time is now, order The Wedding Vow, Forever Yours and Forever Together today! 
Wedding Anniversary
First year together, paper! Fifth year together, Wood! What better way to reminisce but to throw a wedding anniversary party? Whether it's an intimate gathering, a trip to the museum or an extra fabulous party, here are some of our lovely customers who have celebrated their anniversary with our wraps! 
Photo Credit: Chrisceia H on Facebook
Get the look:Love on My Mind
Your wedding day is a celebration of love, commitment, and the start of a beautiful journey together. Through our wedding blog, we hope to inspire and guide you as you navigate the intricacies of wedding planning.
Let your imagination run wild, infuse your love story into every detail, and create a day that reflects the essence of your journey together. From envisioning your dream day to making personalized choices, finding bridal beauty inspiration, crafting a meaningful ceremony, selecting delectable cuisine, finding the perfect dress, perfect nails, and creating an unforgettable atmosphere, we're here to support you every step of the way. Enjoy the journey, savor the moments, and may your wedding day be a joyous celebration that reflects your love and leaves lasting memories for a lifetime.
Happy planning, and may your #weddingdreams come true! 🫰 
---