Discover Your Perfect Finish: Lily and Fox Nail Wraps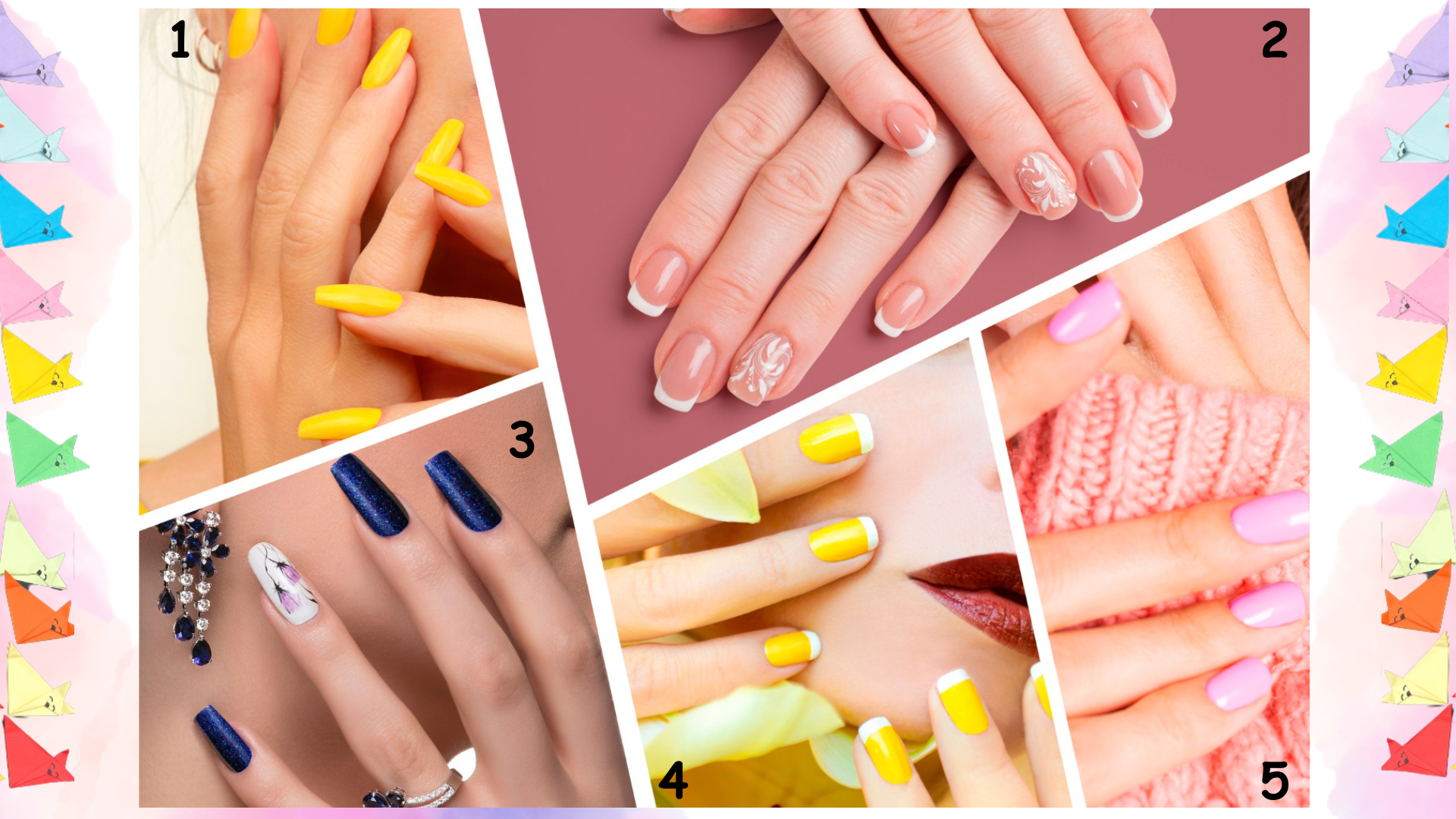 Photo Credit: Freepik
Recreate The Look: 1. Going Bananas, 2. Mon Amour + Paper Flowers, 3. Midnight Sparkle + Dreaming of Monet, 4. Going Bananas + Mon Amour, 5. Hello There
Nail art has become a fantastic way to express oneself creatively and make a fashion statement. However, achieving intricate and stylish nail designs can be time-consuming and challenging. That's where Lily and Fox Nail Wraps come to the rescue! With our extensive range of nail wrap finishes, you can effortlessly transform your nails into stunning works of art. From glossy to matte, transparent to holographic, and everything in between, we'll explore the wondrous world of finishes that will elevate your manicure game to new heights. 
In this blog post, we will explore some of the remarkable finishes offered by Lily and Fox and discover how they can elevate your nail game to a whole new level. So grab your favorite beverage, settle in, and let's dive into a realm of fun and fabulousness for your fingertips! 💅
Types of finishes
On our website, we currently have a wide variety of nail wraps with 14 finish types! We do our very best to release new designs each week (keeping our eyes peeled for that newsletter) and continually work on creating new designs for our customers to enjoy! Let's go through them one by one, and if there's a finish that wasn't mentioned and you'd love us to have, feel free to shoot us a message, and we'll suggest it to our awesome team! 
Glossy Glam: Shine Bright Like a Diamond!
Let's start with a classic and ever-elegant finish: glossy! Glossy nail wraps are perfect for those who love a classic and polished look. These wraps provide a smooth, high-shine finish that resembles professionally done nail polish. Whether you opt for vibrant colors or sophisticated neutrals, the glossy finish adds a touch of elegance and glamour to your overall appearance. 
Marvelous Matte: The Epitome of Chic Sophistication!
Our Matte nail wraps are a popular choice for those who prefer a more subtle and sophisticated look. The matte finish creates a velvety texture on your nails, giving them a modern and understated vibe With muted, soft hues or bold, dark shades, matte finishes lend an air of elegance and trendiness to your nails. It's a subtle statement that speaks volumes about your fashion-forward sensibilities.
Transparent vs Translucent: What's the Difference?
Transparent nail wraps are designed in a way it sees your natural nails! They are perfect as an overlay on top of another wrap, nail polish or acrylic! It adds an extra touch when you want to add an extra sparkle to your fingertips! 
Translucent wraps, on the other hand only give a peek of what's underneath but not quite as clear as transparent nail wraps do! Think of it as a sheer layer of fabric floating around until it hits the sun! Similarly, with translucent wraps, it shines beautifully when it catches a ray of sunshine! Here's a side-by-side showing the difference between the two.

Wish Upon a Star (Transparent) vs Cherry Blossom (Translucent)
Gold French Tips: Feeling Fancy
Photo Credit: @ageisjustanumber717 on Instagram
Transparent Delight: Barely There Beauty!
If you're after a minimalist, barely-there aesthetic, transparent finishes are your perfect match. These wraps allow the natural beauty of your nails to shine through while providing a protective layer. You can also apply our transparent nail wraps onto any type of nail, whether that is a bare nail, polish, gel, Shellac, SNS, or acrylics. Whether you want a subtle, au naturel look or a base for nail art experimentation, transparent finishes are versatile and oh-so-chic. 

Feeling Nautical (Transparent)
Translucent Enchantment: Subtle Magic on Your Fingertips!
Translucent finishes add a touch of ethereal beauty to your nails. These wraps possess a semi-opaque quality that allows a glimpse of what lies beneath, creating a soft and mesmerizing effect. With delicate hues and a hint of mystery, translucent finishes capture the essence of delicate enchantment and leave your nails looking utterly captivating.

Cherry Blossom Bliss (Translucent)
Photo Credit: Angelina on lilyandfox.com

Hypnotic Holographic: A Prism of Mesmerizing Colors!
Magical sheets that can transform your nails into a mesmerizing display of shifting colors and shine.
The secret behind these wraps lies in the materials and techniques used to create them. 😉
Holographic nail wraps are made using a unique type of material called holographic foil or film. This material contains microscopically thin layers arranged in a specific pattern. When light hits these layers, it goes through something called light diffraction. This means that the light waves get scattered and split into different colors, just like when you see a beautiful rainbow in the sky. 🌈✨

Galaxia (holo)
Photo Credit: @dielola on Instagram
The arrangement of these thin layers in the holographic material is what gives the nail wraps their enchanting iridescent effect. When you apply the wraps to your nails, they catch the light in a special way. As you move your hands and change the angle of light hitting the wraps, the colors seem to dance and shift, creating a stunning holographic display on your nails.
So, holographic nail wraps aren't just simple stickers; they're like little works of art that bring a touch of magic to your nails. You don't need to be a nail art pro to achieve a fantastic look with holographic wraps, and they can instantly add a pop of wow to your manicure.
Glittery Delight: Sparkle, Shine, and Bedazzle! ✨
Sparkle and shine with glitter nail wraps! These wraps are adorned with dazzling glitter particles that catch the light and create a mesmerizing effect. Whether you want to add a touch of glamour to your everyday look or create a statement nail, our glitter finishes are sure to impress. For lovers of all things sparkly, glitter finishes are an absolute delight. 
These wraps are adorned with tiny specks of glitter, instantly transforming your nails into glimmering works of art. Whether you prefer fine glitter for a subtle shimmer, sparse glitter for a delicate touch, or big glitter for a bold statement, these wraps will make your fingertips dazzle and shimmer like a starry night sky.
Fine Glitter: Subtle Elegance with a Hint of Sparkle!
For a more refined and understated glittery look, fine glitter nail wraps are the way to go. These wraps showcase a delicate sprinkling of small glitter particles, offering a subtle yet elegant touch of sparkle. The fine glitter adds a touch of shimmer and sophistication to your nails without overpowering the overall design. With their subtle and refined charm, fine glitter finishes are perfect for casual and formal occasions. Whether you opt for a monochromatic color scheme or a mix of dazzling shades, these wraps will add a hint of magic and elegance to your manicure.

Lost in the Waves
Photo Credit: Lucero on Facebook 
Sparse Glitter: Delicate and Scattered Sparkles for a Subtle Glow!
If you prefer a more delicate and scattered sparkle, sparse glitter nail wraps are the perfect choice. These wraps feature a sparse distribution of glitter particles, creating a subtle and mesmerizing effect. The glitters are strategically placed, allowing the base color or natural nail to shine through while still offering a touch of sparkle. Sparse glitter finishes provide a delicate glow that catches the light in a subtle and enchanting manner. These wraps are perfect for those who want a more refined and sophisticated glitter look, adding just the right amount of shimmer to their nails.
Big Glitter: The Bold and Dazzling Statement Maker!
Big glitter nail wraps are designed to make a bold and eye-catching statement. These wraps feature larger glitter particles that command attention and create a dramatic effect. Each piece of glitter stands out, reflecting light and adding a glamorous touch to your nails. Whether you choose chunky holographic flakes, sizable metallic sparkles, or a combination of both, big glitter finishes will ensure your fingertips shine and sparkle like no other. Get ready to turn heads and steal the spotlight with these dazzling and extravagant nail wraps.
By incorporating big glitter, fine glitter, and sparse glitter nail wrap finishes into your nail art repertoire, you have a range of options to suit your desired level of sparkle. Whether you want to make a bold statement, add a touch of elegance, or opt for a subtle and scattered sparkle, these finishes allow you to express your personal style and create stunning manicures. 
Let your creativity shine, and experiment with these glittery delights to craft beautiful and unique nail designs that showcase your individuality. Check out our Glitter Mania collection here!
Pearlescent Elegance: Iridescent Grace at Your Fingertips!
Pearlescent nail wraps are best described as having a shimmering quality reminiscent of a pearl, giving them an opalescent appearance. These wraps exude a delicate radiance that creates an ethereal, almost-glazed effect, much like using a highlighter on your cheeks.  With their luminous charm, pearlescent finishes bring an air of sophistication to your nails, making you feel like royalty.
Tranquility
Fluorescent Frenzy: Electrify Your Nails!
Prepare to add a serious pop of fun to your fingertips with our super cool fluorescent finish nail wraps! A fluorescent finish nail wrap has a vibrant and glowing appearance under UV or black light. These nail wraps are designed to emit a bright and intense glow, creating a stunning and eye-catching effect on the nails. 
The fluorescent finish can come in various colors, ranging from neon shades to electric hues. When exposed to UV or black light, the nail wraps with fluorescent finish truly stand out, making them perfect for parties, clubs, festivals, or any event where you want your nails to shine and attract attention.
Artistic Metallic: A futuristic and lavish approach!
Step into the future with metallic finishes that exude a high-tech, futuristic allure. For an edgier and attention-grabbing style, we offer a range of metallic nail wraps. These wraps feature stunning metallic hues like gold, silver, bronze, and more, which give your nails a luxurious and futuristic appeal. Metallic finishes are ideal for special occasions, parties, or when you simply want to make a bold statement with your manicure.
Heat Activated Wonders: Transformative Magic at Your Fingertips!
Prepare to witness nail art magic with heat-activated finishes! These wraps undergo a captivating transformation when exposed to heat. Watch as vibrant patterns or hidden designs emerge, adding an element of surprise and delight to your nails. With heat-activated wraps, your fingertips become a canvas for enchanting metamorphosis.
The best part about heat-activated nail wraps is that they can be more forgiving during application. If you need to reposition the wrap or smooth out any wrinkles, you can use the heat again to soften the adhesive and make adjustments.
So, with just a little bit of heat, you can achieve a fantastic and flawless nail look that lasts longer and looks amazing. Heat-activated nail wraps are a fun and creative way to express your style, and once you get the hang of applying them, you'll love the stunning results! Enjoy the magic of heat-activated nail wraps! ✨💅
Get The Look
here
UV Glow Extravaganza: Radiate Under and Around the Disco Lights!
Take center stage and let your nails steal the show with UV glow finishes. These wraps are designed to emit a mesmerizing glow under UV or black light, creating a jaw-dropping effect. Get ready to shine bright like a star and command attention wherever party or lazer tag game you go, as your nails become the ultimate conversation starter.
Get the look
here
Glow-in-the-Dark Delights: Luminosity in the Darkness!
Embrace the mysterious allure of glow-in-the-dark finishes! These wraps store light and release it in the darkness, creating an enchanting luminosity. With nails that seemingly light up when the lights go down, you'll experience a whimsical and playful charm that will captivate hearts and add a touch of magic to your nighttime adventures.
Check them out
here
Have Fun and Experiment by Layering and Mix and Matching our Wraps with Different Finishes

Photo Credit: Freepik
Recreate the look: Date Night + Just a Squeeze
Did you know that you can layer our wraps on top of another design or over any nail product? If not, then you're in luck! We're here to show you how you can add an extra sparkle to a classic design or you just want to mix things up and make your nails stand out! 
Also, we love it when customers flex their creativity with our wraps so we have a few ideas from them featured in the nailfiles below.
So, get ready to rock your nails with stunning designs that'll have everyone asking, "Where did you get those fabulous nails?"
It all starts by preparing our canvas: our lovely nail! Cleanse your nails like a pro! No dirt, no old polish, just a clean canvas for your nail wrap adventure. Once done, choose the nail wraps you want to layer or mix and match! We have a treasure trove of wraps to choose from. Pick a fabulous base wrap that sets the stage for your masterpiece.
Layering Wraps: Let's add some pizzazz to those nails with some delightful layering action:
Step 1: Base Wrap Showtime - Start strong with a base wrap. Choose a vibrant solid color or a simple design; it's like the foundation of your nail art kingdom
Step 2: Bring in the Top Guns - Time for the star attraction! Grab another Lily and Fox transparent nail wrap, one with intricate patterns, sparkles,  or a touch of metallic magic. Make sure it complements the base wrap and takes it to the next level.
Step 3: Stick 'Em Up! - Now, trim that second wrap to fit like a glove on top of the base wrap. Leave a little space to let the base peek through. Carefully apply the top layer wrap, aligning it perfectly with the base.

Layering with Lily and Fox
Get the Layers: I'm a Rebel + Keep Me In The Loop
Step 4: Stick and Seal - Give those wraps some love by pressing them down firmly on your nails. Seal the deal with a top coat to keep your layered masterpiece intact and shiny as a diamond.
Finished Product: Going Bananas and Hello Spring Transparent
As an added bonus, you can also use nail polish as your base and apply our wraps as an overlay. Here's a cute mani and pedi from one of our customers!
OPI "My Paprika is Hotter Than Yours" with Dainty Daisies
Photo Credit: Joanne on lilyandfox.com
OPI "Pamplona Purple" with Picture This (transparent)

Photo Credit: Joanne on lilyandfox.com

Mixing & Matching: Lily and Fox Party on Your Nails! 
Who says you have to stick to one design? Let's mix it up with a burst of creativity:
Step 1: A Playground of Wraps - Grab a bunch of Lily and Fox nail wraps with colors and patterns that speak to your soul. We're talking stripes, florals, geometrics - the whole shebang!
Step 2: Plan Your Nailscape - It's time to be the nail artist you were born to be! Plan out how you'll mix and match the wraps on each nail. Go crazy with vertical lines, and diagonal designs, or even chop up the wraps for a mosaic effect!
Step 3: The Artistic Moment - Apply the wraps according to your master plan. Take your time and get those wraps just where you want them.
Step 4: Blend the Magic - Grab a nail art brush or a trusty toothpick. Blend the edges where the wraps meet to create a seamless transition between the different designs. Voila! Your nails are an explosion of creativity! Expert tip: Finish off with a top coat!
Finished Product: Bohemian Beauty + I'll Be Dreaming of You

Photo Credit: Lena on lilyandfox.com
Mix and Match: I Find You Ribbeting + Peridot Sparkle

Photo Credit: Terra on lilyandfox.com

Nail Wraps provide an exciting alternative to traditional nail polish, offering a wide variety of finishes to suit every style and occasion. Whether you prefer glossy, metallic, matte, glitter, or nail art finishes, we have you covered. Whether you're layering for depth or mixing & matching for a kaleidoscope of designs, the possibilities are endless. 

 Mix and match: Jumpin Jitterbug + Ocean Princess + You're My Treasure 
So, unleash your imagination, experiment, and show off your unique nail art creations wherever you go. By using our easy-to-apply and long-lasting nail wraps, you can achieve professional-looking nail designs without the hassle. You know what to do - spread the #lilyandfox love and let your nails be the talk of the town! Happy wrapping! 🌟💅
---