Summer Days: Lily and Fox Summer Wraps Must-Haves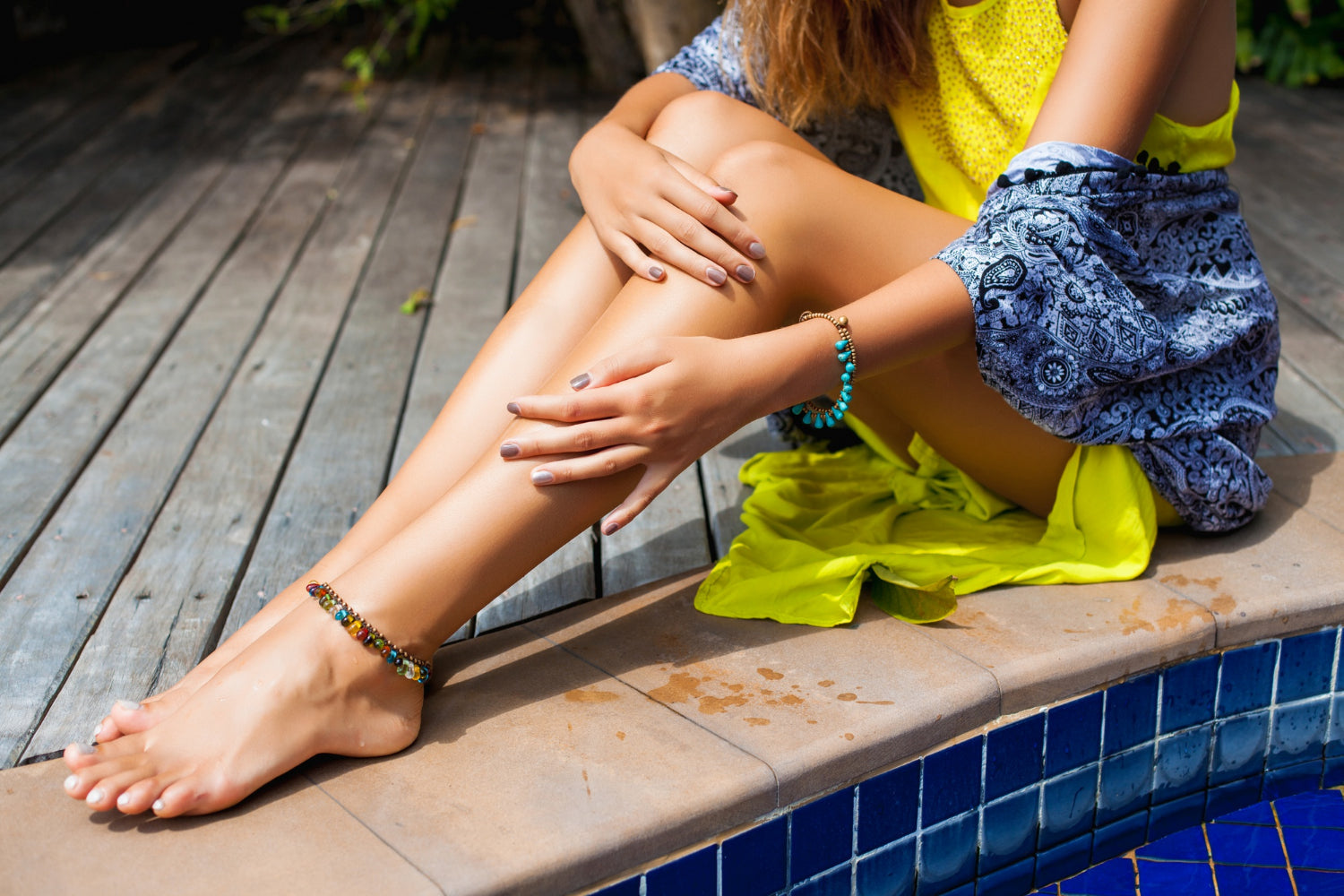 Image by marymarkevich on Freepik
Can you feel the summer heat? As the temperature rises and the days get longer, one thing is clear - summer is officially here! This summer, let your nails do the talking with these fabulous and fun nail wrap designs. Whether you prefer tropical, nautical, fruity, floral, or sunset-inspired styles, there's a perfect wrap waiting for you!
In this article, we'll showcase an array of summer nail wraps perfect for a season filled with exciting adventures, leisure, and hours of soaking up the sun's warmth.
If you're looking for a quick and easy way to showcase your summer spirit, nail wraps are the perfect solution. 
Get ready to dive into the vibrant world of summer nail wraps with our Summer Days collection! 
TROPICAL PARADISE
Escape to a tropical paradise with nail wraps inspired by exotic flowers, lush palm trees, and sandy beaches. From hibiscus blooms to an array of palm trees, these designs will transport you to a beachside getaway. Whether you're lounging by the pool or sipping a fruity drink, your nails will be getting a lot of compliments this season.
Lovely Lei - Get ready to lie back and pamper yourself with Lovely Lei, where tropical charm meets effortless style. These wraps are a vacation "on" your fingertips!
Image by wesandmarie on Instagram 
Summer Breeze - Feel the cool breeze of summer with Summer Breeze bringing a breath of fresh air to your manicure game!

Boulevard Dreams - Indulge in the glamour of Boulevard Dreams where sophistication meets artistic flair. Walk the summer streets with confidence and style!
BEACHY BLUES
Embrace the calming and refreshing vibes of the beach with wraps that showcase shades of blue. From serene ocean waves to that perfect ocean sparkle, these wraps capture the essence of a seaside escape. Pair them with your favorite summer dress or swimsuit, and let your nails become a reflection of the crystal-clear waters. Dive into the world of beachy blues and make waves at every turn!
Feeling Nautical - Ready for your next cruise this summer? Climb aboard with this gorgeous mani that will surely make you and others think nautical. Set sail with confidence and let your nails capture the essence of the sea, channeling a timeless nautical elegance that is both stylish and sophisticated!
Lost in the Waves (about to be released!) - Dive into a sea of serenity with this stunning set! Let the waves of beauty wash over your nails, creating a captivating manicure that embodies the essence of coastal bliss.

Ocean Sparkles - Embrace the season's vibrant hues as shades of blue dance on your fingertips, delivering a touch of oceanic charm that complements your sun-kissed glow.
FLIRTY FLORALS
Florals are a summer fashion staple, and your nails shouldn't miss out on the fun. Choose wraps that showcase blooming flowers in a myriad of colors and styles. Whether you prefer delicate daisies or bold roses, these floral wraps will make your nails bloom beautifully. They're perfect for garden parties, picnics, or simply adding a touch of nature-inspired elegance to your everyday look.
Hibiscus Punch - This gorgeous set adds a tropical punch to your nails. These wraps bring the essence of exotic blooms and island vibes to your fingertips. Embrace the colors and captivating hibiscus patterns, creating a manicure that packs a delightful punch of summertime flair.
You're My Sweetheart - A perfect pairing with your fave red swimsuit while basking in the summer heat! These wraps will make your manicure a love letter to style, leaving you feeling delightful and utterly lovable.
Amethyst Garden - Enter a world of enchantment where the beauty of blooming flowers meets the allure of amethyst hues. Transform your nails into a captivating oasis as intricate floral designs dance alongside mesmerizing glitters, creating a truly artistic manicure!
FRUITILICIOUS DELIGHTS
Summer is the season of juicy fruits, and your nails can join in on the delicious fun. From watermelon slices to pineapple patterns, and citrus fruits, these fruit-themed wraps will add a playful twist and are perfect for those who want to add a pop of color and a dose of Vitamin C to their nails. The pop of colors and whimsical designs will make your nails look good enough to eat. Whether you're hosting a BBQ or attending a summer festival, your fruity nails will be the talk of the town.
Watermelon Queen (about to be released!) - While hydrating with a thirst-quenching watermelon, you can also beat the summer heat with Watermelon Queen! This is definitely one of the cutest nail wraps you can wear this summer, and it's perfect for your next pool party or beach trip!



Sweet and Sour -  Let your nails be the perfect blend of tangy and trendy, leaving a sour-sweet impression beach or poolside! It's a delectable treat, balancing sweetness and sass in perfect harmony for a truly eye-catching look!

Cherry Sparkle - Unleash the sweet and sparkling charm of Cherry Sparkle. Let your nails blossom with the vibrant hues of ripe cherries while dazzling sparkles add a touch of glamour to your manicure. Indulge in the lusciousness of cherries and the radiance of sparkles, creating a dazzling statement this summer!
SUMMER FASHION
From sizzling sunsets to beachy vibes, these wraps effortlessly elevate your manicure, making a bold fashion statement at the beach or on the streets! From playful flamingos to that gorgeous sunset and fun plaid, these wraps will keep you on the summer trend! Step up your summer style game with the trendiest accessory for your fingertips! 
Standing Tall - Stand tall and fla-mingle with this beautiful wrap! These wraps capture the grace and allure of these elegant flamingoes, adding a touch of tropical whimsy to your manicure. Let your nails take flight and make a stylish statement that's impossible to ignore.
Sparkling Summer - These wraps are like rays of sunshine for your fingertips, featuring dazzling patterns and glistening glitter that capture the season's essence. Let your nails radiate with summer brilliance, adding a touch of glamour to your every look.
Hello Sunshine - These wraps are a cheerful invitation to bask in the warmth of summer, featuring bright colors and a well-plaid pattern that radiates positivity. Let your nails spread rays of sunshine wherever you go, bringing a smile to everyone's face!
Summer Friendly Tips 
 If you've fallen in love with nail wraps and want to keep them looking fresh and flawless this summer, we've got you covered. Many of our customers who love to swim on the beach and swimming pool have said that their nail wraps last them well as long as the proper preparation and application process is followed! 
To ensure your summer nails last throughout the season, consider keeping some spare wraps handy. This way, if any wraps get damaged or start to lift, you can quickly replace them and maintain a flawless summer look. We got your back to help out with any challenges or tips you need to keep your nails looking fresh and fabulous all summer long! 
Your nails deserve all the love, girl, so treat them with TLC! Avoid using them as tools for opening stuff—leave that to the tools themselves. Treat your wraps gently and watch them stay fierce.
Once you've had the wraps on for a few days, keep your nails and cuticles on fleek with some moisturizing love. Show them you care by applying a bomb cuticle oil or moisturizer. It keeps them healthy, flexible, and ready for action. 
Additionally, we've provided some helpful articles below to ensure your nail wraps stay fresh, adhere properly, and last longer despite the heat, sun, and water exposure. Get ready to rock your summer with picture-perfect nails that turn heads everywhere you go!
TIPS: How To Make Our Nail Wraps Last Longer
Mastering Nail Wraps Care: Tricks for Fresh and Flawless Nails
Get creative and embrace the summer vibes with these stunning nail wraps. From tropical paradise to beachy blues and fruity delights, there's a design to suit every style. Whether you're a nail wrap enthusiast or a beginner, these wraps offer an effortless way to celebrate the season and make a statement with your nails. 
With captivating patterns, lively colors, and beachy vibes, these wraps will make your #summer days shine brighter than ever. Whether you're at home or out in the sun, get ready to #rockthesummer with your fabulous #lilyandfox fingertips! 
Don't see the design you're looking for? Feel free to message us, and we'll help you find the perfect wrap for you this summer! Don't just chase the sun—wear it on your fingertips! Shop now!
---